Therapy and the KX Modifier
This electronic Comparative Billing Report (eCBR) focuses on providers who submit claims for outpatient therapy CPT codes 97110, 97112, 97140 and 97530 billed with the HCPCS modifier KX.
eCBR information is one of the many tools used to assist individual providers to become proactive in addressing potential billing issues and performing internal audits to ensure compliance with Medicare coverage guidelines.
For your personalized eCBR results on Therapy Services and the KX Modifier, log into our eServices portal. An eCBR will be available for providers who have at least 10 claims in history for this CPT code family during the time period selected.

Overview of Therapy Services
Medicare benefits for therapy state a patient must require the expertise, knowledge, clinical judgment, decision making, and abilities of a licensed therapist because his/her needs cannot be provided sufficiently by an assistant, caretakers or the patient independently.

Physicians or other qualified health care professionals including physical therapists (PT), occupational therapists (OT), and speech-language pathologists (SLP) are required to have direct (one-to-one) patient contact for many therapy services.

Table 1: Outpatient Therapy Services CPT Codes and Descriptions
| | |
| --- | --- |
| CPT Code | Description |
| 97110 | Therapy exercises, each 15 minutes |
| 97112 | Neuromuscular reeducation, each 15 minutes |
| 97140 | Manual therapy, 1 or more regions, each 15 minutes |
| 97530 | Therapeutic activities, each 15 minute |
CPT® is a registered trademark of the American Medical Association (AMA). All rights reserved.

Medicare coverage for outpatient therapy services does not depend on a patient's "potential for improvement from the therapy but rather on the beneficiary's need for skilled care."

Skilled therapy services may be necessary to improve or to maintain the patient's current condition, or to prevent or slow further deterioration of the patient's condition.

Documentation Requirements for Therapy Services
The patient medical record must include justification for continued therapy. The documentation should include elements like:
Relevant history to support medical necessity
Physical/occupational therapy order
Physical/occupational therapy certification
Physical/occupational therapy notes — including time spent in each therapy
Signature attestation (if applicable)
Abbreviation key (if applicable)
Supporting Usage of the KX Modifier
The KX modifier is a signal on a claim that though the patient services have met the capped amount allowed, the provider deems continued care medically necessary. As the description in the below table indicates, medical record documentation must be maintained to support the medical necessity of the continued services.

Table 2 Modifier and Description
| | |
| --- | --- |
| HCPCS Modifier | Description |
| KX | Specific required documentation on file |
For CY 2021 the KX modifier threshold amounts are:
$2,110 for PT and SLP services combined; and
$2,110 for OT services
Exceptions to the caps are allowed for medically necessary outpatient services only when Congress legislates the exceptions. Suppliers and providers can continue to use the KX modifier to request an exception to the therapy cap on claims that are over the annual cap amounts.
There is no manual process for requesting exceptions. When the service qualifies for an automatic claims processing exception based on the medical necessity of the service for the patient's condition, submit the service with HCPCS modifier KX. Note that "automatic" refers to the manner in which the claim is processed and does not indicate that the exception itself is automatic.
Providers of speech language pathology, physical therapy or occupational therapy services:
Submit this modifier when the patient has already met the financial cap for PT/SLP or OT, and the service qualifies as an "exception" to be reimbursed over and above the cap
Use the KX modifier to indicate that the clinician attests that services at and above the therapy caps are medically necessary and reasonable, and justification is documented in the patient's medical record
It is important to recognize that most conditions would not ordinarily result in services exceeding the cap. Use the KX modifier only in cases where the condition of the individual patient is such that services are appropriately provided in an episode that exceeds the cap. Routine use of the KX modifier for all patients with these conditions will likely show up on data analysis as aberrant and invite inquiry.

Methods and Results
The metrics reviewed in this eCBR are the proportion of billing for each CPT code in the therapy grouping with the KX modifier with comparisons to peers within the nationwide Railroad Retirement Board Specialty Medicare Administrative Contractor (RRB SMAC) jurisdiction. This report is an analysis of Medicare Part B claims extracted from the Palmetto GBA data warehouse. The analysis shows the percentage of your claims for CPT codes 97110, 97112, 97140 and 97350 at levels compared to your peers in the RRB SMAC.

Example of eCBR Results from eServices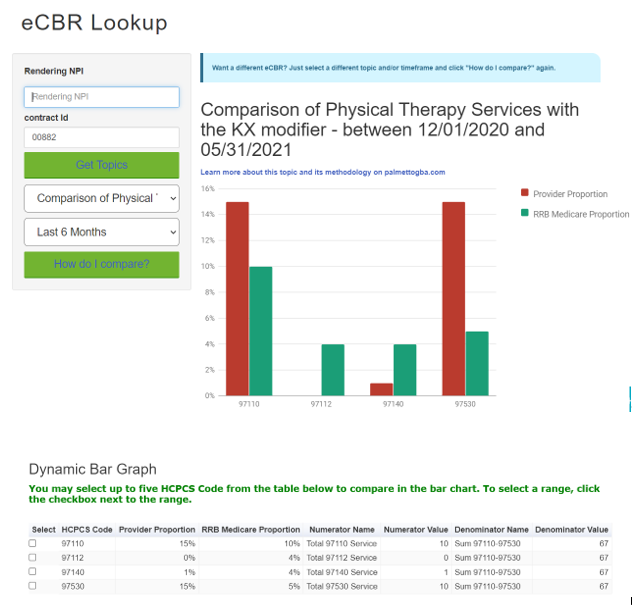 Please be aware that the information contained within this eCBR is not intended to be punitive or an indication of fraud. Rather, it is intended to be proactive communication that will assist you in identifying potential billing issues and help you with performing a self-audit of your conformity with Medicare guidelines.
For more information about this or other eCBRs, please call our Provider Contact Center at 888–355–9165, and select Option 5. Customer service representatives are available Monday through Friday, from 8:30 a.m. to 4:30 p.m. in all time zones with the exception of Pacific Time. This service is available from 8:30 a.m. to 4 p.m. PT.
Educational Resources
CMS Resources at www.CMS.gov.
Railroad Medicare Resources at www.PalmettoGBA.com/RR.